Solomon Dalung, former minister of sports and youth development, has warned that the 2023 general election will be about electoral competition.
The minister made the disclosure while speaking to reporters in Jos, the capital of Plateau state.
According to the minister, Nigerian voters are now interested in voting for people with the requisite ability to govern the nation and not for political parties.
PAY ATTENTION: Watch the news that is selected exactly for you ➡️ find the "Recommended for you" lock on home page and enjoy!
A former youth development and sports minister under President Muhammadu Buhari has warned that the 2023 general election will not be about political parties.
Vanguard reports that Solomon Dalung said that voters are interested in voting for competent candidates and not parties during elections.
Speaking on Tuesday, January 17, while interacting with journalists in Jos, the Social Democratic Party (SDP) candidate for the Langtang North/Langtang South federal constituency said that candidates must learn to up their game ahead of the election.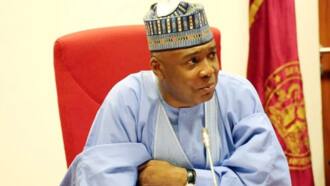 Polls 2023: Saraki chides Obi, says Labor a 'recipe for disaster'
He also said that Nigerians, especially those of voting age, are more politically conscious than in the past and that his considerations in the current political administration were on the qualities of the candidates and not on their political parties.
PAY ATTENTION: Watch the news that is selected exactly for you ➡️ find the "Recommended for you" lock on home page and enjoy!
His words:
"Don't be fooled, Nigerians are not going to choose parties, Nigerians are going to choose individuals.
"It will be a rainbow coalition in 2023, and it was the rainbow coalition that saved South Africa because it ended apartheid.
"In 2023, Nigerians with your votes will build a rainbow coalition that will end these political failures, political gangsters and lay the foundation for a new nation.
"A nation where people of different political backgrounds, different ideologies, different religions, different ethnicities will come together and build a better country for Nigeria."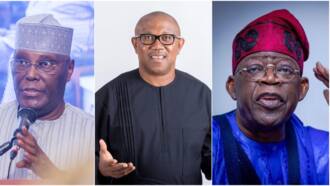 Don't vote for Tinubu, Peter Obi: Atiku urges Nigerians and gives reasons
Nigerians who encourage integrity and character
Speaking further, the former minister said that voters across the country are rooting for candidates with competence and the right ability to carry out the affairs of the nation.
He said:
"For a candidate who has not been elected before, it will be his character, his integrity and past record that will give him an advantage.
"It's not going to be how long a politician has been in government but what he has been able to achieve during that period.
"Therefore, it is not a guarantee for any elected person not to serve to stand on the high ground of the structures or the number of years in office."
Japa: Peter Obi Discusses Plans To Improve Nigerian Passport Rating, Woo Investors
In other news, Peter Obi of the Labor Party has vowed to improve Nigerian passport rankings if he is elected president in February.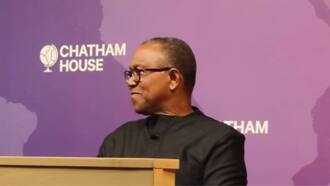 Peter Obi At Chatham House, Answers All Questions As He Reveals Top 3 Things He Will Do For Nigeria
The former Anambra state governor said his administration will entice investors to do business in Nigeria again.
According to Obi, corruption has become Nigeria's biggest challenge and needs to be tackled collectively.
Finally, Chatham House talks about why Atiku hasn't joined their conversation as Tinubu, Obi
Meanwhile, Atiku Abubakar of the Peoples' Democratic Party (PDP) has yet to respond to an invitation from the Chatham House Institute.
This was announced by the director of the Africa Program, Alex Vines, at the institute on Monday, January 16.
Vines said that Mahmood Yakubu, Chairman of the Independent National Election Commission, and Rabiu Kwankwaso of NNPP will be at the institute on January 17-18.
Source: Legit.ng