Northern Nigeria has been urged to look beyond voting based on religion and ethnicity in next month's presidential election.
This was made known on Sunday, January 8, by the vice-presidential candidate of the Labor Party, Datti Baba-Ahmed
He affirmed that the northern region has suffered the extreme repercussion of voting with tribal and religious feelings
Legit.ng is celebrating the business personalities of 2022. See the top entrepreneurs from Fintech, Startup, Transportation, Banking and other sectors!
FCT, Abuja – Labor Party vice-presidential candidate Datti Baba-Ahmed says the northern part of Nigeria bears the brunt of voting on sentiments of religion and ethnicity.
The Kaduna-born politician stated this on Sunday, January 8 during the City Channels TV series at the NAF conference center in Abuja.
He said:
"Clearly this is not supposed to be an election about religious and ethnic sentiments, because right now Nigeria is paying a heavy price.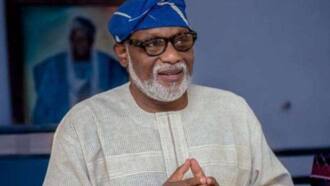 Southwest's top governor on which region should produce president in 2023
"Northern Nigeria is paying an extremely high price for voting based on religion and ethnicity. Let's stop the killing and start healing, stop the theft, start saving, stop our currency slipping and start the promotion if our society."
He said next month's election should be based on the premise of character backed by competence and track record.
The Labor Party will enter next month's election as an underdog seeking to upset and overthrow the current government led by President Muhammadu Buhari of the ruling All Progressives Congress (APC).
Similarly, the presence and relevance of a strong opposition such as the Peoples' Democratic Party (PDP) which ruled from 1999 to 2015 also poses a major threat to Peter Obi and the Labor Party's chances of securing the final mandate.
Source: Legit.ng