The Lagos state chapter of the Peoples' Democratic Party (PDP) is aggrieved by numerous attacks on its supporters in the state.
It emerged that the convoy of PDP gubernatorial candidate Dr. Olajide Adediran, also known as Jandor, was blocked during his campaign.
Jandor, who is not satisfied with the current development, requested President Muhammadu Buhari and IGP Usman Alkali
An emerging report has confirmed an attack on supporters of Lagos State Peoples' Democratic Party (PDP) gubernatorial candidate Dr. Olajide Adediran, also known as Jandor.
It was alleged that the Jandor campaign train was attacked on Wednesday January 25 by suspected thugs and political thugs in the Kosofte local government area of ​​the state.
As Vanguard newspaper reported, the attack forced the Lagos State PDP chapter to write to President Muhammadu Buhari and Police Inspector General Usman Alkali Baba to intervene immediately.
Fear in rivers as gubernatorial candidate escapes assassination, party behind attack reveals
According to Jandor, Wednesday's attack was the second consecutive attack on his supporters in the build-up to next month's general election.
It was deduced that the first attack on his campaign train occurred in the Isheri area before Wednesday's attack on the Oworosonki area of ​​Kosofe LGA.
While recounting the incident, Jandor revealed that his followers were attacked with rocks, bottles, and other harmful objects.
It revealed that Oworo Road was blocked by the suspected thugs who held their convoy, hostage, for 45 minutes.
Jandor revealed that officers came to the rescue and were able to disperse the rogue thugs at the scene of the incident.
History of attacks on Jandor's allies
As a prequel to the recent attack, it was learned that one of Jandor's security elements was stabbed on Tuesday, January 24.
Funke Akindele, the PDP lieutenant governor candidate was also recently attacked and driven away while at the Kosofte fruit market on Tuesday 24th January.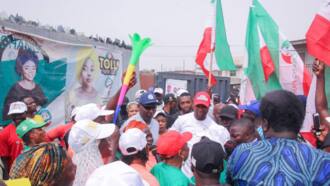 2023 Election: Thugs Attack Lagos PDP Gubernatorial Candidate, Hold Him Hostage In Video
Reports also indicate that there have been a series of similar attacks in Agege, Badagry and Ikorodu.
Jandor, who is beaming with confidence, declared that he would not give up his quest to become governor of Lagos State, no matter what adversities he is thrown before the polls.
Source: Legit.ng