The APC has sounded the alarm over fake news content on social media aimed at slandering its presidential candidate, Bola Tinubu
The ruling party's campaign team said that the PDP is responsible for spreading false narratives against Tinubu
The party called on Nigerians to be wary of misinformation aimed at criticizing their presidential candidate ahead of the election.
FCT, Abuja – The Presidential Campaign Council (PCC) of the All Progressives Congress (APC) accused the Peoples' Democratic Party (PDP) of manipulating fake news against its presidential candidate, Asiwaju Bola Ahmed Tinubu.
Bayo Onanuga, director of media and publicity for the APC PCC made the accusation in a statement sent to legit.ng on Sunday, January 29.
He said the opposition-sponsored fake news content is mainly in the Hausa language and is targeted at voters in northern Nigeria.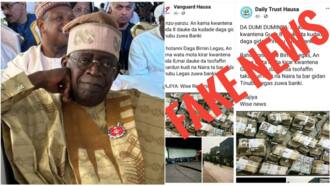 Turn heads as APC drags down 2 powerful media houses over report of truckloads of money allegedly owned by Tinubu
He further alleged that the PDP has recruited social media actors to carry out a smear campaign against Tinubu in the north.
PAY ATTENTION: Share your outstanding story with our editors! Contact us via info@corp.legit.ng!
Onanuga said the move is aimed at casting Tinubu in a bad light, especially among voters in the northern region.
Part of the statement read:
"We deem it necessary at this time to warn Nigerians about this evil plan capable of causing disharmony, ill will and an unnecessary crisis with consequent security implications in the country.
"The PDP and their contracted social media influencers have already begun promoting their nefarious content by spoofing and using parody social media accounts of popular newspapers and blogs to spread fake news with the sole aim of deceiving the gullible. nigerians.
"Many parody social media accounts such as 'Vanguard Hausa', 'DailyTrust Hausa' have been created and are also used to spread fake news on Facebook, Twitter, Instagram, WhatsApp and other digital platforms.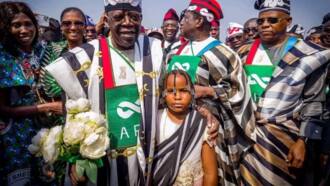 Election 2023: Tinubu accuses PDP of sabotaging fuel supply to blackmail Buhari government
"All these parody Facebook accounts were used by the PDP on Saturday to post malicious fake news that trucks carrying old Naira notes belonging to Tinubu were arrested in Lagos."
The APC CCP implored the Daily Trust and Vanguard newspapers to do everything legal to shut down the cloned social media pages using their names.
Onanuga said the PDP and its presidential candidate Atiku Abubakar know they cannot win the upcoming elections, adding that they have resulted in the use of fake news to gain electoral advantage.
added:
"We use this medium to urge Nigerians and especially our compatriots in Northern Nigeria not to be fooled.
"Atiku and the PDP have nothing good to offer Nigerians apart from their rabid ambition to enrich themselves, their family and friends, as video and audio leaks by former Atiku media aide Mike Achimugu reveal. ".
Fake news: Onanuga alerts members of the public on Twitter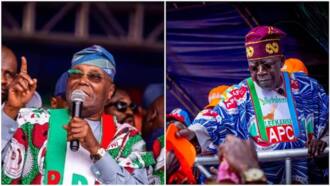 Elections: "Attacking Buhari will not save his failed campaign," Atiku tells Tinubu
Onanuga had previously led his Twitter page to alert the public to fake news against its director.
He wrote:
"Daily Trust Hausa and Vanguard Hausa are spreading malicious fake news about some truckloads of money that were allegedly seized and linked to Asiwaju Bola Tinubu. The story is completely false and it is unfortunate that reputable media outlets are spreading this big lie."
Tinubu accuses the PDP of sabotaging the fuel supply to blackmail the Buhari government
Earlier, Tinubu accused the PDP of sabotaging the country's fuel supply to blackmail the federal government for illicit political gains.
Tinubu made the remarks in Makurdi, the capital of Benue state, to a crowd of party supporters who recently attended the APC presidential campaign rally.
He said the PDP administration gave fuel retail licenses to its supporters and sympathizers who are now hoarding fuel to create long lines across the country and make the APC-led government look incompetent.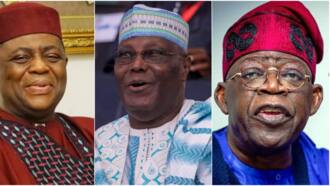 "Without evidence": Fani-Kayode mocks PDP for drug lawsuit against Tinubu
Elections 2023: Yahaya Bello denies withdrawing support for Tinubu
Meanwhile, Kogi state governor Alhaji Yahaya Bello has discredited a report claiming he has withdrawn his support for Tinubu.
In a post on Twitter, Bello shared a photo of the newspaper's headline with 'Fake News' written in bold across the image.
Likewise, Felix Morka Esq, secretary of national advertising of the APC, in a statement sent to legit.ng on Sunday, January 22, he called the report fake news.
Source: Legit.ng