Shehu Sani, a former senator and DPP gubernatorial hopeful, has said that the DPP G5 governors led by Nyesom Wike are heading to prison.
The former lawmaker was reacting to the latest report that the governors have a deal with another presidential candidate besides the PDP's Atiku Abubakar, which Wike had denied.
However, Sani's post has generated some controversy as Nigerians have reacted to the post with different views.
Nigerians have expressed mixed reactions following Shehu Sani's revelation about the internal crisis rocking the Peoples' Democratic Party (PDP) ahead of the 2023 elections.
Some 5 aggrieved PDP governors have distanced themselves from the campaign of Atiku Abubakar, the umbrella party's presidential candidate in the 2023 elections.
The governors, led by Rivers State's Nyesom Wike, are calling on PDP national chair Iyorchia Ayu to step aside and have a southerner take office in the spirit of justice and equity.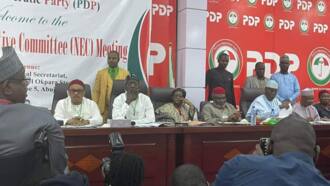 Wike, another G5 in fresh trouble as PDP reveals when integrity group will be clamped down
Latest on PDP, Iyorchia Ayu, Atiku Abubakar, Nyesom Wike, Shehu Sani, 2023 elections
To press their demands, they have made it a precondition to be part of Atiku's campaign in the 2023 presidential election.
Last week, it was reported that the governors endorsed a particular presidential candidate, but denied the claim upon his return to Nigeria on Friday, December 30.
Reacting to the development, Sani, a former senator and PDP gubernatorial hopeful in Kaduna state, took to his Twitter page and made a cryptic comment about the development.
He said:
"G-5 is just dragging the game into penalty kicks, and penalty kicks can be suicidal."
Some Nigerians also took to the comment section of the post and expressed their views.
Abriel @GOchogwu commented:
"Except if they are the faces of many influential politicians behind the scenes, the G 5 should be ignored. Atiku still has a better chance without them."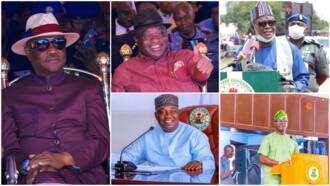 How the PDP and Atiku plan to ruin the political careers of Wike, Makinde and other G5 governors in a tit-for-tat permutation
Raphy CJ @ChisaRaphael for his part said:
"No sir, the match is already over… Atiku already lost, can't you see clearly? What a nightmare for PDP."
OLAREWAJU PETER DAMILARE @OLAREWAJUPETER7 postulated that:
"I guess they have a sustainable plan to positively influence and advance people's issues."
Another netizen with the handle TRAP ⭐ @trapstarz247 commented:
"Sacrificing his political career for the good of Nigeria does not seem like suicide to me."
BEN EKEKHOR @EkekhorBen said:
"Senator, sir, it's like Atiku has too much confidence in penalties. His first problem is the selection of the 5 players who will take the penalties. While the G5 have been rehearsing for the 5 penalties."
See the post below:
Source: Legit.ng