The statistics on who will be the next governor of Lagos, the former capital of Nigeria, changed dramatically on Tuesday, January 31.
This is because Labor Party (LP) Lagos gubernatorial candidate Gbadebo Rhodes-Vivour is said to be leading other gubernatorial candidates following the result of an online poll.
As stated by the poll organizers, Gbadebo claimed a total of 7,776 votes to defeat Governor Babajide Sanwo-Olu of the All Progressives Congress (APC), who garnered 4,711 votes.
The poll revealed that Peoples' Democratic Party (PDP) candidate Adediran Azeez Olajide (also known as Jandor) had 3,250 votes in a distant third place.
It was learned that said survey was launched on December 6, with the sole objective of ensuring excellence in the promotion of credible elections, participatory democracy, human rights and the strengthening of governance institutions for the consolidation of democratic practice in the world.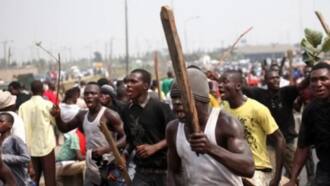 Osun Court: Pandemonium ensues as residents protest verdict against Governor Adeleke
The organizer, an international electoral body, said Nigeria is of great interest to him because of its position as the world's most populous black nation, as well as Africa's second-largest economy.
Source: Legit.ng