A former president of Nigeria, Olusegun Obasanjo, on Thursday, January 12, outlined some of the key issues that the country's next president must address.
The Nation reports that Obasanjo, while speaking at a virtual meeting hosted by the Africa Leadership Group, said the key challenges facing the country must be addressed once the next president is sworn in on May 29.
He added that the next president must put an end to challenges such as terrorism, banditry and kidnapping in every state in the nation.
Obasanjo noted that Nigeria as a country should strive to move from a group of experts to a working group to achieve this.
His words:
"I hope that the man who will be the next president is the type of leader who understands the economy, and that is very important.
2023: Why Nigeria needs a stingy president, reveals Peter Obi
"If you understand economics, there are many things you should do, including; doing something about the fuel subsidy. In addition, the country's debt is not very good, something must be done.
"The amount of petroleum products that are stolen in the country is staggering. The level of corruption in other areas is also mind boggling. In addition, banditry, kidnapping has become the order of the day."
Finally, the Labor Party reacts to the support of Obasanjo, Edwin Clark to the presidential candidacy of Peter Obi in 2023
The recent endorsement of Peter Obi by a former president, Olusegun Obasanjo, and an elderly statesman, Edwin Clark, has continued to provoke reactions.
The Labor Party, the political platform under which Peter Obi is running for the 2023 presidency, has also reacted.
According to the party, more endorsements are expected from top political leaders and well-meaning Nigerians.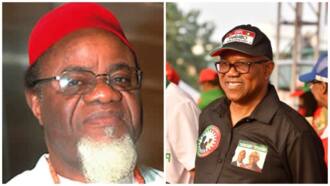 Another big land of endorsement as influential ex-gov. talks about 1 thing that will stop Peter Obi's presidency
Peter Obi reacts to Arthur Eze's comments on his 'failed' 2023 presidential bid
Peter Obi said earlier that it is politicians like Arthur Eze that he
Obi's reaction comes after Eze warned against his presidential ambition, saying he never supported the former governor's plan to run in the 2023 election.
An Obi spokesman said Arthur Eze's comment on Obi's presidential bid only shows that the businessman is afraid of losing his influence on the people.
Source: Legit.ng