Twenty candidates have been shortlisted by the Federal Government of Nigeria for the position of the new Accountant General of the Federation (AGF).
The Cable reports that the candidates came from various ministries, departments and agencies across the country.
A circular issued by the FG said the shortlist followed reports made available by anti-corruption agencies about their investigations of the nominees.
He also said that a candidate accreditation process is expected to begin on Monday, January 9.
It read in parts:
"Accordingly, the shortlisted candidates will come for the accreditation exercise scheduled for Monday 9 to Wednesday 11 January 2023 at Olusegun Obasanjo Hall, Office of the Head of the Federation Civil Service, Federal Secretariat, Phase lI, Abuja. between 8:00 a.m. and 4:00 p.m. every day."
Top Nigerian States With Highest Debt In 2022 As 11 Leave Massive Debts For Successors
Here is the full list of those shortlisted for the position:
1. Mufutau Bukola (Transportation),
2. Mohammed Aminu Yara'abba (Federal Fire Service),
3. Danladi Zakowi Comfort (Interior),
4. Mahmud Adam Kambari (North East Dev. Comm)
5. Mohamed Magaji. M. Doho (Inside)
6. Waziri Amos Samuel (Agricultural and Rural Development)
7. Madein Oluwatoyin Sakirat (OHCSF)
8. Adaramoye Joseph Oluwole (Humanitarian Affairs)
9. Isa Abubakar (Science, Technology and Innovation)
10. Ogunsemowo Oladipupo Olakunle (Environment)
11. Egbokale Kadiri Charity (Nigerian Football Federation)
12. Ibrahim Saadiyya Jibo (National Boundary Commission)
13. Ogbodo Chinasa Nnam (National Commission for Wages, Income and Salaries)
14. Bakre Modupe Julianah (NPF)
15. Osakwe Udechukwu Obi (Health)
16. Velvuk Abubakar Sadiq (OAGF)
17. Njeze Bertrand Chukwuma (Nigerian Council of Surveyors)
18. Wali Charled Metule (Special Duties and Intergovernmental Affairs)
19. Dandela Abdulrahman Kassim (Police Affairs)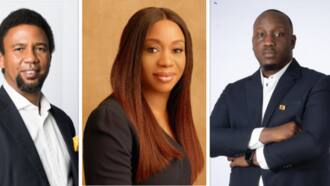 MTN, Zenith Bank, Flutterwave and others top 2022 list of legitimate business names
20. Mohammed Munkaila (Works and Housing).
Outrage as federation accountant general arrested for N80bn fraud
Nigeria's Accountant General Ahmed Idris has been arrested for alleged money laundering and embezzlement of public funds.
According to the EFCC, the stolen funds were laundered through property investments in Kano and Abuja.
Meanwhile, the revelation has been met with outrage by many Nigerians angry that such criminal acts occurred in the Buhari administration.
2023: INEC chief Mahmood Yakubu indicted in court over asset declaration
In other news, a lawsuit seeking the declaration of assets of INEC President Prof. Mahmood Yakubu has been filed with the Abuja-based Federal High Court.
According to a statement made available to legit.ng On Monday, May 16, the lawsuit signed FHC/ABJ/CS/33/2021, filed by the plaintiff, Emmanuel Agonsi, begs the court to order the head of the INEC to declare his assets.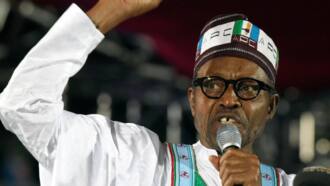 Discover facts about Buhari's ministers and his portfolio
as collected by Legitimate, the plaintiff is praying for the court to issue an order to the Code of Conduct Bureau (CCB) which was also added in the application to compel Yakubu to declare his assets.
Source: Legit.ng