Central Bank of Nigeria Governor Godwin Emefiele has announced his return to Nigeria
The whereabouts of the CBN governor have been in the spotlight in recent days following his travails with DSS.
Emefiele has released a statement that he is back and has also promised to continue with his functions
PAY ATTENTION: Watch the news that is selected exactly for you ➡️ find the "Recommended for you" lock on home page and enjoy!
Godwin Emefiele, Governor of the Central Bank of Nigeria (CBN), announced his return to the country in a statement issued Monday night.
The statement was signed by Osita Nwanisobi, Director of Corporate Communications for CBN.
In the statement, Emefiele pledged to continue carrying out the tasks that President Muhammadu Buhari directs him to carry out, Dailytrust reports.
CBN Governor Makes Promises
Here are the details of CBN's statement: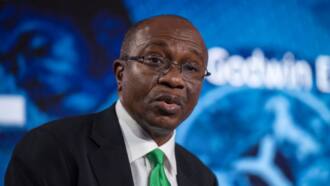 BREAKING: Tension as DSS breaks into CBN, takes over Emefiele's office, more details emerge
PAY ATTENTION: Watch the news that is selected exactly for you ➡️ find the "Recommended for you" lock on home page and enjoy!
"The Governor resumed with renewed vigor the performance of his functions before the first meeting of the year of the Monetary Policy Committee (MPC) scheduled for January 23 and 24, 2023.
"Mr. Emefiele remains committed to carrying out the task before him in accordance with his oath and the political leadership of President Muhammadu Buhari.
"While we thank the public for keeping faith in the Bank, we urge Nigerians to continue to support the Bank's policies aimed at ensuring a stable financial system and the Nigerian economy in general.
CBN works with DSS
Emefiele has been out of the country for several weeks amid fears that he will be arrested by State Security (SSS) agents who are investigating various allegations against him, including corruption and terrorist financing.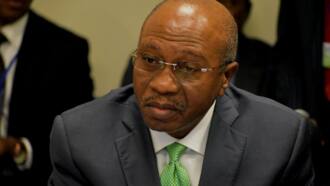 Emefiele reportedly plans to resign after returning from abroad
CBN Governor Emefiele's extended stay in the UK raised concerns among civic organizations and prominent individuals that he was on trial for his recent policies.
Concerns grew to the point that a judge in Abuja ordered the State Security Service (SSS) not to arrest Emefiele when he returned.
However, Premium Times reports that the CBN governor has obtained permission from President Muhammadu Buhari for two weeks' leave.
10 Things to Know When Starting CBN Cash Out Policy
Meanwhile, in another report, the country's commercial banks have started implementing CBN's cash-out policy.
The goal of the policy is to increase the number of transactions conducted electronically while reducing the amount of physical cash used in the economy.
Here are the ten things to know about the cash withdrawal policy and how it affects a bank customer.
Source: Legit.ng