Head of the ruling All Progressives Congress (APC) and former army chief Tukur Buratai said the war against Boko Haram has been won.
He said that the army under the wings of President Muhammadu Buhari has been able to force 100,000 terrorists to give up their weapons.
The Borno-born politician said that 20,000 people in the Boko Haram terrorists' hideout were rescued by the military in this period.
Former Army Chief of Staff Tukur Yusufu Buratai says President Muhammadu Buhari has won the war against insurgents in Nigeria.
Buratai stated this in a recent interview, an excerpt of which was made available to legit.ng on Wednesday, February 1.
According to the former army chief, at least 100,000 insurgents have surrendered to the Nigerian Armed Forces since 2015 and internally displaced people who took refuge in various camps have already returned to their homes.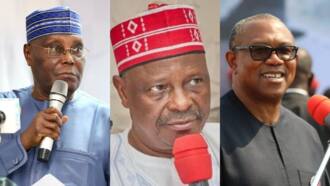 Atiku reveals that he is in talks with Kwankwaso, Peter Obi, weeks before the presidential election
He said:
"It is worth mentioning here that IDPs sheltering in various camps in the city of Maiduguri have now been relocated back to their home towns: Konduga, Bama, Gwoza, Monguno, Kukawa and Dikwa, just to name a few."
The former Army chief, now a politician, revealed that more than 20,000 hostages have been rescued due to the successful operations of the Nigerian Armed Forces in the northeast.
When asked how the military was able to achieve such a milestone, he simply said:
"The people of the northeast realized that the president was passionate about restoring peace and stability in Borno State and the entire northeast region of the country."
However, he blasted critics who think the Nigerian military is not doing enough to restore peace to the country.
Buratai said that such people do not see anything good in the country.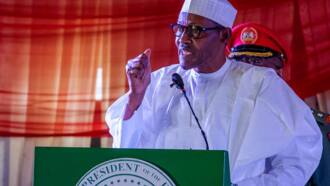 "We give thanks to God, we give thanks to God": Buhari praises Almighty Allah for Nigeria's development
He said:
"The Nigerian military has subdued the insurgents, terrorists and jihadists; the northeast region is now calm and very stable.
"All local government area councils hitherto under Boko Haram control have been recaptured and displaced people from these areas have since returned to their localities."
Buratai talks about the 2023 elections and releases a security advisory
Asked to give his opinion on the upcoming general election, Buratai said he is confident that the Independent National Election Commission (INEC) will conduct Nigeria's best elections in more than two decades.
Buratai, leader of the ruling All Progressives Congress (APC), urged voters to come out in droves and exercise their civic responsibilities.
He further stated that voters can vote for whoever they see fit, but urged voters that voting for Bola Ahmed Tinubu, the APC presidential standard-bearer, would be the right decision.
"APC Muslim-Muslim will polarize Nigeria along religious and tribal lines," says Dogara
Buratai said:
"We are working day and night to make sure Asiwaju Bola Tinubu wins the election.
"I encourage you to vote for his choice, but if you want to hear my opinion, I would say vote for the APC."
However, he urged voters to avoid violence and stand firm to protect their votes in each voting unit.
The APC chief warned that politicians must not be allowed to use Nigerians as a tool of destruction, but rather allow the democratic process to work as it should.
Similarly, he urged the Nigerian Army to remain apolitical during the course of the 2023 general election.
He said:
"They should stick to their constitutional role and remain apolitical. I understand that the military can be called in to help civilian police at some point, but only when things are about to get out of hand."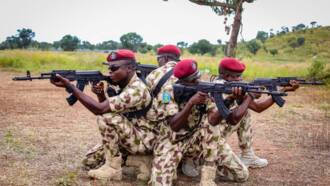 "Alleged armed pastors are seriously mobilizing members", group raises the alarm
Reaction when Chairman Buhari presents Buratai's special appreciation gong
In another development, former army chief Lieutenant General Tukur Yusufu Buratai (CFR) once again took another national honor to his shelf.
He was recognized by the Nigerian Army for his service to the nation and was awarded by President Muhammadu Buhari.
Social analyst and media mogul Dr. Abubakar Sani Muhammadu described Buratai's recognition as a well-deserved honor.
COAS Conference: Prominent monarch of Osun urges more support for the Armed Forces
Meanwhile, the Olowu of Kuta, HRM Oba Hameed Adekunle Oyelude, Tegbosun III also greeted the recognition.
He, however, (the monarch) urged Nigerians to help unite to eradicate the threat.
The monarch stated this at the army chiefs of staff (COA) conference in Sokoto state.
Source: Legit.ng