FCT, Abuja – Peoples' Democratic Party (PDP) presidential candidate Atiku Abubakar has urged the Central Bank of Nigeria to relieve Nigeria of the difficulties of obtaining the new naira notes.
Atiku made this call through a statement issued on Wednesday, February 1 by his campaign office.
However, he praised the CBN for adhering to calls by Nigerians to grant a further extension to the deadline for exchanging old naira notes for new ones.
As reported by Channels TV, he appealed to the main bank to carry out a review to curb the ongoing dispute and hassle over new naira notes in all 36 states.
The former vice president urged CBN not to consider any further extension for the redemption of the old and new naira notes. He said that an attempt to give more extension could undermine the objective of the policy.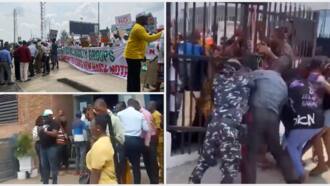 Nigerians protest at banks on video over shortage of new naira notes, as PoS operators withdraw large sums
PAY ATTENTION: Share your outstanding story with our editors! Contact us via info@corp.legit.ng!
Atiko said:
"However, the CBN must beware of the elite whose motive for calling for a further postponement of the deadline for holding the old naira notes is sinister and far from altruistic. I am all for building a cashless economy and reducing the amount of cash in our economy.
"The cashless policy and the reduction of cash in circulation has many advantages and all patriotic Nigerians should support the CBN in this. It will help reduce the flow of illicit funds into our economy. It will help defeat the financing of terrorism and deter drug money from circulating in our economy. It will help our fight against corruption."
"There should be no further postponements in the new naira regime after the expiration of the February 10 deadline. Vote manipulators are trying to pressure the CBN to extend until after the election, when they would have achieved their evil plans. The CBN and the Presidency must be firm. The merits of the new naira policy far outweigh the minor inconveniences we are experiencing."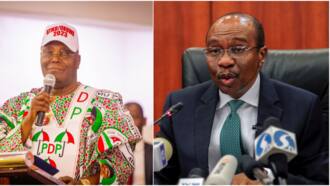 Old Naira notes Deadline: After APC, Tinubu claims, Atiku sends strong and powerful message to CBN Gov Emefiele
He further said that the CBN should consider issuing a directive to commercial banks to operate over the weekend to further speed up the circulation process of the new naira notes across the federation.
Atiko said:
"If the CBN believes that its officials and banks must operate on weekends to serve the needs of common people and rural dwellers, it may need to consider this option, after all, the amount these people require is not huge. .
"The essential element here is to ensure that the new currency circulates and is well distributed at points where people can easily access it. All good policy must be people-centred and must not bring avoidable difficulties for them."
Source: Legit.ng