The Nigerian Securities and Exchange Commission (SEC) issued rules and guidelines for all crypto and digital asset service providers on Friday, May 13, 2022.
The rules in the document, New Rules on Issuance, Offering Platforms and Custody of Digital Assets, include:
New license requirements for platforms that handle digital assets
Platform categorization
Guidelines for your operations
SEC Rules for Virtual Asset Service Providers (VASPs)
Anyone who offers services related to cryptocurrencies or digital assets in Nigeria is a VASP. The VASP categorization is divided into:
Digital Asset Offering Platforms (DAOPs): These platforms enable the issuance of digital assets for fundraising purposes. They may also be called Initial Coin Offering platforms. You can compare it to a place where public companies offer their shares for sale, like the New York Stock Exchange (NYSE).
Digital Asset Custodians (DACs): According to the SEC, "this means a person who provides the services of custodial, storage, holding, or maintaining custody of virtual assets/digital tokens for another person's account." These are crypto wallets like Metamask and Trust Wallet. Crypto exchanges also fall under these categories because they offer wallet services.
Digital Asset Exchange (DAX): This is "an electronic platform that facilitates trading in a virtual asset or digital asset." They are simply crypto exchanges like Binance and Quidax.
Who are considered VASPs?
The SEC identifies any platform that facilitates the trading, exchange, issuance, and transfer of digital and virtual assets as a VASP. It is a general term for a person or entity that uses/offers any service related to cryptography.
The Commission did not mention any monetary requirements for VASP registration, but there are several requirements and obligations for registration.
Rules for crypto exchanges
In addition to the general requirements for all VASPs, registering as a Digital Asset Exchange (DAX) (cryptocurrency exchange) trader requires the following:
Application fee of ₦100,000 ($240)
Processing fee of ₦300,000 ($722.46)
Registration fee of ₦30 million ($72,000)
Minimum paid-up capital of ₦500 million ($1.2 million)
Every exchange that caters to Nigerians must be duly certified by the Corporate Affairs Commission (CAC). This means that exchanges like Binance and Paxful will need to register with the CAC.
Each exchange will also have an SEC-approved board. The Commission will also approve the appointment of chief executive officers and other principal officers in the exchanges.
Executive directors will hold office for no more than ten years. In the words of the SEC, "The Chief Executive Officer of a DAX Platform shall hold office for five years in the first instance and may be reappointed for an additional term of five years and no longer."
The Commission did not clarify whether the CEO tenure period will apply on one cryptocurrency exchange or on different exchanges.
This model is similar to the Nigerian Stock Exchange. Nigerian Stock Exchange CEO Oscar Onyema completed his 10-year term in April.
Exchanges will now be required to submit weekly and monthly trading information, quarterly and annual financial reports, including compliance reports to the Commission.
The SEC must also be notified before an exchange can cease trading. They are also not allowed to grant financial assistance to investors or employees to exchange digital tokens.
Before any token or digital asset can be listed on an exchange, the SEC must first issue a "no objection" approval for the token.
The exchange must demonstrate some level of information about the token or project. You should have the whitepaper of the project, an information document that contains why a token is created, a roadmap and an incentive for investors: to know its security level, how secure is its blockchain and the number of nodes what's wrong with it.
In addition, you must disclose if the project has suffered any attacks in the past and the security vulnerabilities it has.
SEC rules on exchanges mean a deep understanding of how cryptocurrencies work. This has helped the Commission develop measures to protect cryptocurrency traders from fraudulent token trading and ensure the safety of their funds on exchanges.
However, sharing data with the SEC could be a privacy issue for many. After all, cryptocurrencies were created to pseudonymize financial transactions.
SEC crypto regulations on creating or issuing tokens
There are currently 19,443 crypto tokens in existence, according to CoinMarketCap. Creating and issuing tokens is relatively easy, which makes it possible to develop fraudulent tokens.
With crypto scammers stealing as much as $14 billion in 2021, the need for even greater investor protection has never been more apparent.
The ease of token creation has led to the creation of popular scam tokens like Squid Token, which caused investors to lose $3 million in two weeks.
The SEC rules on token issuance are to address this issue and minimize victims of fraudulent tokens.
The SEC will now require any company or entity seeking to conduct an initial asset offering or initial coin offering (ICO) in Nigeria or targeting Nigerians to submit an assessment form and a draft of its white paper, a document informational document that contains why a token is being created, a roadmap, and an incentive for investors.
After receiving all the necessary documents, the Commission will take 30 days to determine if the project should be offered to Nigerians.
Before evaluation is complete, all digital asset offerings must have the disclaimer in the whitepaper clearly stating that the SEC has not determined whether the asset is suitable for offerings or considered a security.
According to the SEC, some digital assets can now constitute securities. The problem of identifying digital assets and cryptocurrencies has always been a major obstacle to their regulation.
If the SEC deems a digital asset to be a security under the Securities Act of 2007, the asset will be registered as both a digital asset and a security.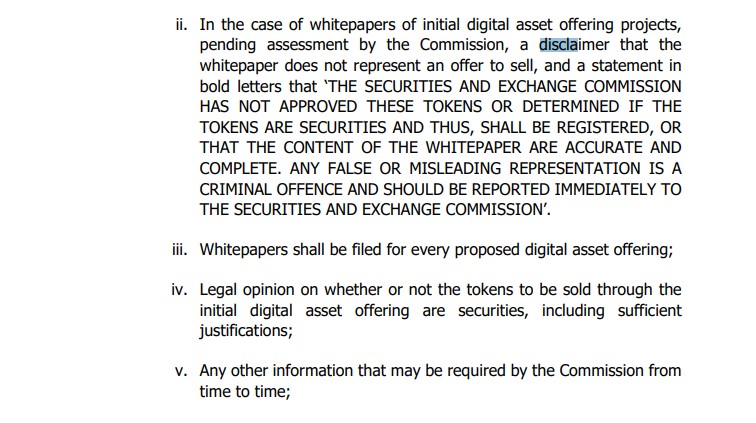 How does the SEC determine digital assets as security?
In general, a security is a financial instrument that has monetary value, is publicly tradable, and represents partial ownership of a company that has gone public.
For example, company stocks, bonds, and mutual funds are examples of securities. Buying Tesla stock, for example, means that you own stock and are a co-owner of the company.
Therefore, it can be inferred that a digital asset that has the characteristics of a security will be considered a security by the SEC.
In the crypto world, governance tokens are examples of such tokens. They represent a level of ownership or control of an entity, and token holders have the right to vote on how a company should be run.
There is a ₦10 billion ($24 million) limit on the amount of money that can be raised through digital assets.
In recent years, we have seen cryptocurrency-focused companies trying to raise money by issuing crypto tokens to the public. The new SEC rules would mean that if a company, say Bitmama, wants to raise funds by issuing tokens, it must do so on a platform that is registered with VASP.
If the asset offering is to raise money for an entity that deals in digital/virtual assets, then it is a VASP and will need proper registration to be considered as such.
Rules for digital asset offering platforms (DAOPs)
DAOPs are platforms where digital assets are issued. They can also be called ICO platforms. Tokens are issued on these platforms for people to buy by entities looking to raise money. It's the same way public companies like Tesla and Google sell stock. Registration for DAOP is also quite similar to DAX.
Application fee of ₦100,000 ($240)
Processing fee of ₦300,000 ($722.46)
Registration fee of ₦30 million ($72,000)
Minimum paid-up capital of ₦500 million ($1.2 million)
According to the SEC, DAOPs are expected to conduct due diligence on all digital asset offerings and determine whether or not to approve them. They are also expected to provide investors with up-to-date information on all digital asset offerings.
Limitations to SEC Rules
The decentralization of the crypto space has been a significant challenge for its regulation, and the SEC rule does not clearly set out its regulatory plans for VASPs operating in the decentralized space.
While the Commission can control what happens on centralized exchanges, it is not aware of what people do on decentralized exchanges where a know-your-customer (KYC) protocol is not required.
Enforcing the rules on token issuance and determining which are securities is also limited by decentralized crypto token structures.
Tokens that have the characteristics of securities are typically governance tokens used primarily by Decentralized Autonomous Organizations (DAOs) and are governed by smart contracts that carry out agreed actions.
While the SEC has its rules, following them might be an option for some VASPs. However, the SEC can trust investors to only invest in Commission-approved VASPs for their safety.
Of course, this is not a fact.
For centralized and international crypto companies like Binance, it will be interesting to see how the SEC plans to enforce its rules.