Nollywood actress Ini Edo was seen in a video discussing the country's film industry at an American conference.
The movie queen lectured a big American producer on the progress of Nollywood globally and advised him to partner with the creatives in his industry.
The video of Ini Edo speaking on behalf of her colleagues has left many emotional who applaud her for a job well done
Popular Nigerian actress Ini Edo has put the country's film industry on the world map.
The movie star attended an international conference and was seen in a video talking about the country's booming film industry, Nollywood.
In the released clip, Ini Edo briefed a renowned American producer and screenwriter, Spike Lee, about the growth and richness of Nigerian culture, which has propelled Nollywood to international fame.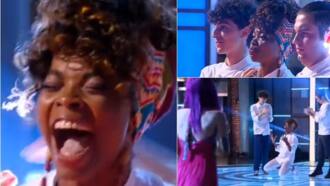 Tears of joy as a Nigerian lady…