APC presidential candidate Bola Tinubu has criticized the Labor Party standard-bearer, saying he failed to develop Anambra when he served as state governor.
Tinubu, speaking at the APC presidential rally in Akwa, said Obi is not staying in the state he once ruled because he feels guilty for not bringing development.
The former Lagos state governor also spoke out about his plans for the people of Anambra and the south-east and urged them to vote for him.
Awka, Anambra State – All Progressives Congress presidential candidate Asiwaju Bola Ahmed Tinubu urged the people of Anambra State to vote for him and reject Peter Obi in the upcoming 2023 presidential election.
Tinubu was speaking at the APC presidential rally in Awka, the capital of Anambra States on Tuesday, January 31, a statement sent to legit.ng by his media assistant, Tunde Rahman, he says.
Presidency: 'Vote for me like you vote for Soludo': Tinubu tells people in Peter Obi's camp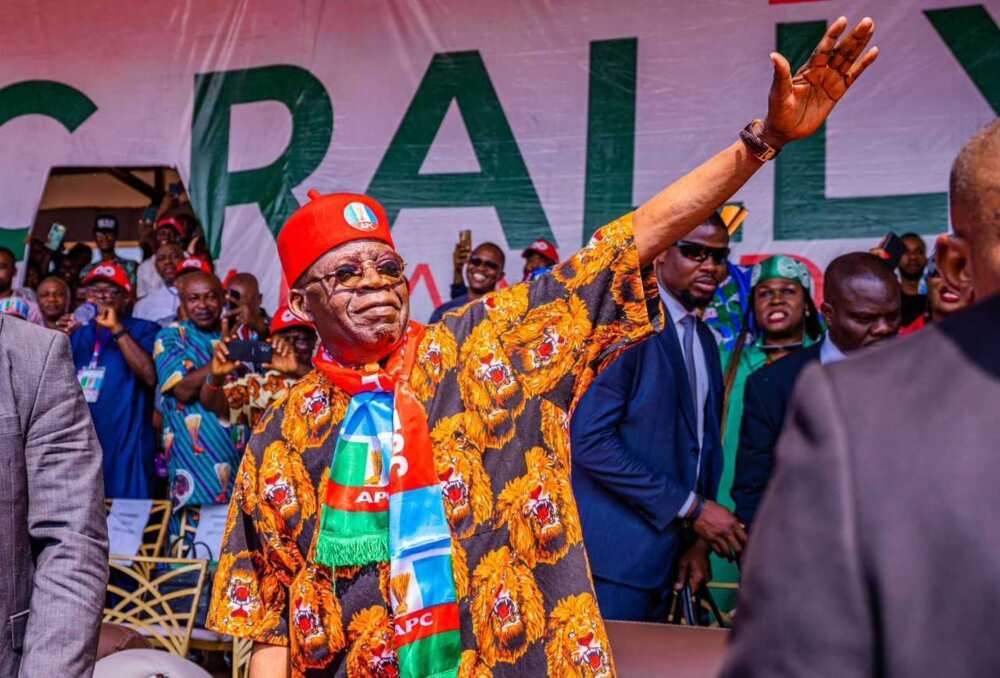 He urged the people of Anambra State to make sure they vote for who they are sure will have their interest as president in next month's elections, adding that the people should reject candidates who preach hate and intolerance.
Peter Obi failed to develop Anambra, says Tinubu
Speaking further, Tinubu said that although the Labor Party's presidential candidate is from Anambra State, the people of the state can judge his administration and how he allegedly failed to achieve significant development for the state in the name of saving funds.
The APC presidential candidate said that while Obi relies on Anambra's votes just because he is from the state, his time as governor of Lagos state showed that he is a de-tribalized Nigerian who does not judge people based on their tribe or religion.
"Reject the darkness of intolerance and hate. Reject those who think they are so superior to you that they think that the public's money is to be spent on themselves or hidden away in some faraway land instead of investing it to improve the daily welfare of the people.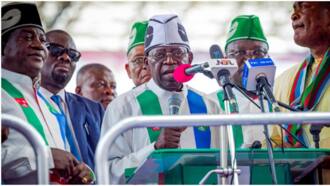 Presidency 2023: Tinubu campaigns in Uyo, reveals what he will do for Nigerians
"This election is not a popularity contest. This is not Nigeria's big brother. This election is about who can make Nigeria bigger, bigger and stronger by leading and treating each other as brothers," he said.
Why Peter Obi doesn't live in Anambra – Tinubu
Tinubu said that as a former governor of Lagos, he resides in the state, unlike Obi, who reportedly lives in Lagos after ruling Anambra for eight years.
According to him, Obi could not live among the Anambra people because he feels guilty for not developing the state.
Speaking further about his achievements as Governor of Lagos State, Tinubu said:
"I know I can do these things because I made similar progress when I was governor of Lagos. Meanwhile, one of my opponents is a former governor of his state. But he does not live among you. He lives in Lagos.
"I live in Lagos because I am pleased with the progress we have made in making Lagos one of the largest economies in Africa. My opponent, however, refuses to live among you because he feels guilty for not giving you the development and growth you deserved from him.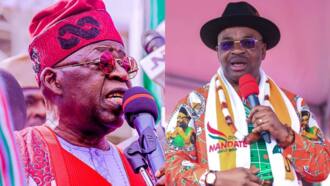 "That boy… who calls himself governor": Tinubu mocks Udom Emmanuel in the APC presidential campaign in Uyo
"Mr. Stingy refused to use the state's money to help his people. He sacrificed your welfare and well-being so he could boast that he saved money. But what's the use of saving money if you refuse to save your own people?"
"That kind of man is a danger to those unfortunate enough to be subject to his misrule. Such a man was ill-equipped to be their governor. Don't make it your president.
"Instead, let the light of this nation shine on the progressive path we present to you."
Tinubu added that his government will create jobs for those living in Awka and other cities in the south-east, thus improving their daily lives.
"My government will also create agricultural hubs that will offer more, better-paying jobs while producing more food for our kitchen tables," he added.
He also promised to reform the education sector.
"APC Muslim-Muslim will polarize Nigeria along religious and tribal lines," says Dogara
Elections 2023: Tinubu to defeat Peter Obi, APGA in Anambra, declares APC chieftain
In another report, an APC chief, Dozie Ikedife Jr., revealed indicators that will increase Tinubu's chances of winning more votes in Anambra and the South East than Peter Obi and Peter Umeadi of the All Progressives Grand Alliance (APGA).
In an interview with reporters on Monday, January 30 in Nnewi, Anambra state, Ikedife, who is the party's southeast zonal organizing secretary, said Tinubu has what it takes to win Anambra and the southeast.
legit.ngAnambra regional reporter Mokwugwo Solomon quoted Ikedife as saying that APC has national coverage and national acceptance, and controls the federal government and most states in Nigeria.
Source: Legit.ng