Asiwaju Bola Ahmed Tinubu has claimed that Atiku Abubakar is not a progressive leader and therefore cannot rule Nigeria.
The APC presidential candidate added that if Atiku becomes president of Nigeria, he will sell the common birthright of citizens to the highest bidder and disappear with the proceeds.
Tinubu stated on Saturday, January 7, that Atiku is not ready to do the brave and hard work required for nation-building.
ondó – The presidential candidate of the All Progressives Congress (APC), Asiwaju Bola Ahmed Tinubu, has dealt a blow to Atiku Abubakar, his counterpart in the Peoples' Democratic Party (PDP).
At his presidential campaign rally in Ondo State on Saturday, January 7, Tinubu described Atiku as a man who sells everything.
Tinubu claimed that the former vice president does not want to do the brave and hard work that is required to build a better nation.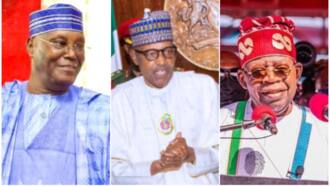 2023: Haunting message for Tinubu as Atiku talks about what happened to Buhari's "real" preferred candidate
Instead, he said that Atiku "would rather sell his birthright to the highest bidder and run away with the proceeds."
Jagaban added:
"He cares little that his policies and actions impoverish you and leave you with nothing."
Source: Legit.ng