The G5 governors disappointed many Nigerians by failing to reveal their preferred presidential candidate in Ibadan on Thursday, January 5.
The development has fueled speculation that the G5 governors have abandoned the plan to back a single presidential candidate.
Emerging reports indicate that Ortom may back Peter Obi, Makinde and Wike may opt for Tinubu, while Ugwuanyi and Ikpeazu have remained silent.
Ibadan, Oyo State – Exceeding Nigerian expectations, the G5 governors did not unveil their preferred presidential candidate at the re-election campaign flag launch of their colleague, Seyi Makinde, in Oyo State on Thursday January 5th.
At Mapo Hall, the site of the rally, Nyesom Wike, the group's spearhead, told Oyo residents to vote for Makinde and other PDP candidates at all levels.
"The other one, Seyi will come to you (to tell)," said the governor of Rivers in an apparent reference to the presidency.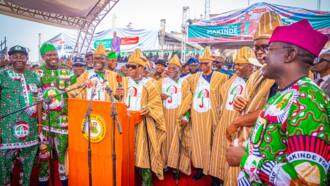 G5 governors make a decision on preferred presidential candidate as Wike reveals what Makinde will do next
The development gave credence to speculation that the G5 governors may have abandoned their bid to endorse a single presidential candidate.
PAY ATTENTION: Share your outstanding story with our editors! Contact us via info@corp.legit.ng!
According to a Nigerian Tribune report, the governors have admitted that local political realities in different states may make it impossible to endorse a single presidential candidate.
This implies that the five aggrieved PDP governors can endorse any presidential candidate they wish, taking into account the local political realities in their respective countries.
The choice may be between two prominent southern presidential candidates: Asiwaju Bola Ahmed Tinubu of the All Progressives Congress (APC) and Peter Obi of the Labor Party (LP).
Here's what can happen if G5 governors choose to endorse more than one presidential candidate.
Governor Ortom will go for Peter Obi
Benue state governor Samuel Ortom has made no secret of his support for Obi. Thus, he may eventually queue up behind the Labor Party's presidential candidate.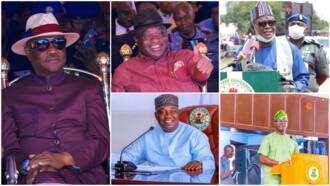 PDP crisis: 3 reasons why Wike ally Makinde may lose second-term ambition in 2023 election
Remember that Ortom had earlier endorsed the former governor of Anambra State, saying…
Wike, Makinde can go for Tinubu
According to Leadership Y nigerian grandstandGovernors Wike and Makinde seem to favor Tinubu.
Makinde may choose to endorse Tinubu as he and the APC presidential candidate are from the South West.
Governor Wike is also reportedly leaning towards backing Tinubu due to his chances of winning, especially as the ruling party's presidential candidate.
Ugwuanyi and Ikpeazu remain silent
Governors Ugwuanyi and Ikpeazu can support Obi because they are from the southeast.
It followed that the governors were not ready to support Tinubu for fear of backlash as Obi, a fellow south-easter, is also on the ballot.
The two southeastern governors have remained silent, refusing to openly state their support for either candidate.
Remember that the G5 governors had resolved not to work for Atiku's presidential bid unless the PDP's national chairman, Dr. Iyorchia Ayu, a northerner, relinquishes a southerner to balance geopolitical power.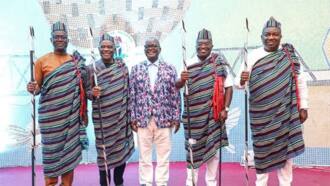 Details emerge as G5 governors meet in Ibadan, make a decision on which presidential candidate to support
The members of the G5 Governors are:
Governor Nyesom Wike (Rivers State)
Governor Okezie Ikpeazu (Abia State)
Governor Samuel Ortom (Benue State)
Governor Ifeanyi Ugwuanyi (Enugu State)
Governor Seyi Makinde (Oyo State)
We are committed members of the PDP, says Ortom
In another report, Governor Ortom said that he and his G5 PDP colleagues are committed party bosses.
The Benue governor made the remark after the inauguration of Governor Seyi Makinde's re-election campaign in Ibadan, capital of Oyo state.
In a statement issued by his chief press secretary, Nathaniel Ikyur, Ortom noted that G5 members are working hard to make sure the PDP wins in all of its states and beyond in the upcoming general election.
Source: Legit.ng