Yola, Adamawa State – Asiwaju Bola Ahmed Tinubu, the All Progressive Congress (APC) presidential candidate, has warned Adamawa state residents not to vote for the Peoples' Democratic Party (PDP) presidential candidate.
Tinubu said this on Monday, January 9, at the APC presidential rally at Maidoki Ground in Yola, the capital of Adamawa state, according to a statement sent to legit.ng by his media assistant, Tunde Rahman.
He hit the former vice president and said:
"I heard that a former vice president who comes from Adamawa wants to come back to Aso Villa again. Do you have to decide if you owe him your vote simply because he is from here or you owe yourself a better nation and a future?
"If you think a better tomorrow is possible, then you can't support Vice President Privatize Everything. If you give him the nation, he will sell everything he can and leave you with nothing.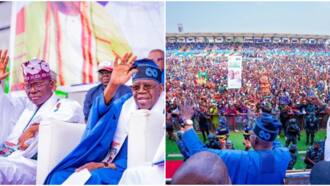 What I will do if elected president, Tinubu reveals at Arewa endorsement rally in Lagos
My plan for the northeast, Tinubu reveals
Speaking about his plans for the northeast, where his running mate Kashim Shettima hails from, Tinubu said he envisioned a safe, prosperous and flourishing region.
His words:
"I envision productive farmland that produces enough abundant food to feed the state and help feed the rest of the nation and even export to a world in need of our dynamic contribution to humanity. I envision both manufacturing centers and agricultural centers that will allow you to produce finished products that will expand the local economy, create jobs, and raise the standard of living for all of you.
"I see adequate fresh storage facilities, farm-to-market roads and access routes. I also envision the establishment of commodity exchange boards and credit services that will provide the hard-working farmer with a guaranteed income for his crops and also allow farmers affordable loans to invest and improve the productive yield of their land. I can envision these good things for my people because I have the experience and the commitment to see them come true."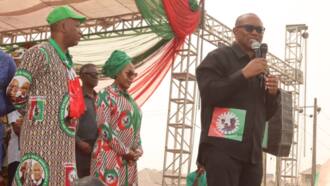 Peter Obi Shows No Mercy As He Drags Out APC, PDP, Tells Nigerians How To Destroy Structures Parties Brag About
The APC presidential standard-bearer said he accomplished similar feats when he was governor of Lagos state, adding that he is ready to replicate such achievements nationally.
"With your help, I will do it again on a larger scale. I have already done the research and made wise plans. What I promise is real and achievable," he said.
The power is in your hands, Tinubu tells Adamawa residents
Tinubu asked the people of Adamawa State to vote for him in the next poll on February 25, 2023.
He said:
"Give me and Shettima the mandate to accomplish this. And we will give him the economy, the jobs and the income he seeks. The power is in your hands, vote for me; Empower me so I can empower you!
Buhari has laid a solid foundation for Nigeria, says Tinubu
Meanwhile, Tinubu also praised President Muhammadu Buhari for attending the Adamawa rally, saying he was deeply moved and honored by his presence.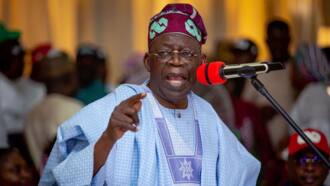 Presidency 2023: Again, Tinubu reveals his true position on the fuel subsidy
He said the president has laid a solid foundation for the country, which he would build on if elected.
"Their contributions are positive and lasting. As I have said before, when the history of this period is written objectively, you will treat them very kindly.
"He will treat you like a true patriot and hero. Thank you for providing a strong and solid foundation. Now, it's up to the rest of us to carry on and make Nigeria the best national building we can imagine," he said. saying.
The APC presidential candidate said:
"That he is here and that he was kind enough to be our campaign chairman shows his dedication and loyalty as a party member.
"More importantly, his presence underscores his commitment to progressive and democratic good governance and his belief that our party represents the best hope for leading the nation to the peace, prosperity and development it deserves."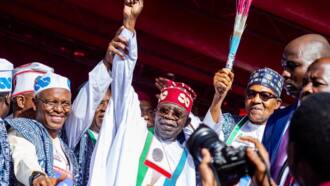 Can a sick person do that? Tinubu boasts of his fitness to become president of Nigeria
Elections 2023: Vote for first female governor, Tinubu urges Adamawa residents
Tinubu also called on the people of the state to vote for the country's first female governor.
He was seeking support for the party's gubernatorial candidate in the state, Senator Ayisatu Dahiru Ahmed Binani, saying she has what it takes to become governor.
"She is bright, motivated and results oriented. She will perform better for the state," she said.
Abdullahi Adamu, APC National Chairman, others speak
Also speaking at the rally, APC National Chairman Senator Abdullahi Adamu and Tinubu/Shettima Campaign Director General Simon Lalong called for support for the election of Asíwájú Tinubu as President and Senator Ahmed Binani as Governor of Adamawa .
Senator Binani, the APC's gubernatorial candidate, promised a new lease on life for the Adamawa people, saying civil servants' salaries and pensions would be paid regularly.
Source: Legit.ng