Senator Aliyu Sabi Abdullahi Says APC Presidential Candidate Bola Tinubu Will Pick Up From Where President Buhari Left Off
The senior senator made the comment in reaction to rumors of a break between Tinubu and the president.
The APC chief noted that Tinubu's comments in Abeokuta, which sparked breakup rumors, were of interest to Nigerians.
Borgu – Senate Deputy Whip Senator Aliyu Sabi Abdullahi has said All Progressives Congress presidential candidate Asiwaju Bola Tinubu would uphold the legacy of President Muhammadu Buhari.
Vanguard reports that Senator Abdullahi made the comment on Monday, January 30, while getting a rehabbed stadium in the north-central state up and running.
Senator Abdullahi also said that President Muhammadu Buhari cannot disagree with Tinubu as rumored in some sections of the media.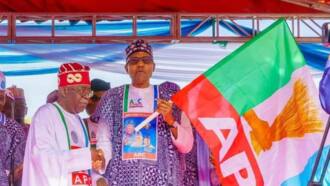 Finally, Tinubu visits the main northern state, talks about the perceived break with President Buhari
According to him, Tinubu is the ideal person to pick up where Buhari left off and sustain the president's legacies.
His words:
"We are working very hard to fulfill our match, our match is intact. For the good work our father has been doing.
"He is aware and very patriotic that he needs his legacy to be sustained and that is why he said that he is a Democrat, he is going to allow the democratic process to take place. That's leadership and that's how our presidential candidate came to be.
"Since we are going into national elections, we believe that as the president of this country, it is your duty to make sure that there are credible elections."
Senator Abdullahi further said that there was nothing wrong with the views expressed by Tinubu in Abeokuta, sparking rumors of tension between the APC presidential candidate and the president.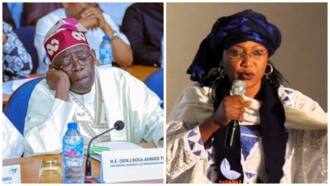 2023 Presidential Election: Former Tinubu Campaign Leader Breathes Fire, Leaks Jagaban Secret
"That is your opinion. Is there something wrong with me expressing his point of view? I am in the National Assembly and we have moved motions for its extension. The concern we are showing is due to the Nigerians."
Tinubu will win, by a wide margin, says Akeredolu
For his part, Ondo State Governor Rotimi Akeredolu has said that Tinubu will win the 2023 elections with a wide margin.
Akeredolu also said that the APC is lucky to have a personality like Tinubu as a presidential candidate.
Vanguard reports he made the remarks in the city of Ondo at the APC's central senatorial district campaign rally.
PDP sponsors fake news against Tinubu in northern Nigeria – APC
Meanwhile, the APC's Presidential Campaign Council (PCC) accused the Peoples' Democratic Party (PDP) of manipulating fake news against Tinubu.
Bayo Onanuga, director, media and publicity for the APC PCC made the accusation in a statement sent to Legit.ng on Sunday, January 29.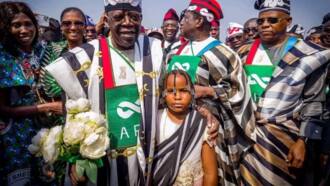 Election 2023: Tinubu accuses PDP of sabotaging fuel supply to blackmail Buhari government
He said the opposition-sponsored fake news content is mainly in the Hausa language and is targeted at voters in northern Nigeria.
Tinubu accuses the PDP of sabotaging the fuel supply to blackmail the Buhari government
Earlier, Tinubu accused the PDP of sabotaging the country's fuel supply to blackmail the federal government for illicit political gains.
Tinubu made the remarks in Makurdi, the capital of Benue state, to a crowd of party supporters who recently attended the APC presidential campaign rally.
He said the PDP administration gave fuel retail licenses to its supporters and sympathizers who are now hoarding fuel to create long lines across the country and make the APC-led government look incompetent.
Source: Legit.ng