The leadership of the Nigerian Police Force has deemed it appropriate and necessary to make some changes in some states.
As stated in a letter from IGP Alkali Baba, the states of Ogun and Lagos now have new commissioners.
Those redistributed by IGP Baba are Frank Mba (Lagos State) and Idowu Owohunwa (Ogun State) ahead of the 2023 election.
abuja – Ahead of the 2023 general election, the Nigerian Police Force (NPF) has made some major changes in some states.
The Inspector General of Police (IGP), Alkali Baba, has approved the redeployment of two police commissioners: Frank Mba and Idowu Owohunwa, reports The Cable.
While Mba was transferred to Lagos to replace Abiodun Alabi in Lagos, Owohunwa would replace Lanre Bankole in Ogun.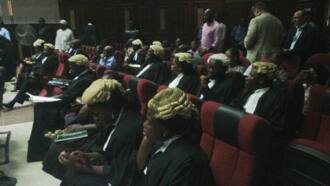 Forgery of certificates: Court gives final verdict on PPD lawsuit against powerful northern governor
The redeployments are contained in a letter dated Tuesday, January 24, and signed by Hafiz Inuwa, the police deputy inspector general of the Police Service Commission (PSC).
According to Baba, the publication was part of the strategy to strengthen the strategic and operational control of the Lagos and Ogun commandos.
The letter read in part:
"I am humbly directed to write and forward the proposed designation of the police commissioners listed below to the state commands indicated next to their names for the commission's gracious consideration and approval.
"The police inspector general is deploying the following police commissioners to strengthen strategic and operational control of the commandos."
Election 2023: President Buhari picks ex-IGP as head of Police Service Commission, appoints more REC
The Senate had been asked to confirm Solomon Arase, a former inspector general of police, as the new chairman of the Police Service Commission (PSC).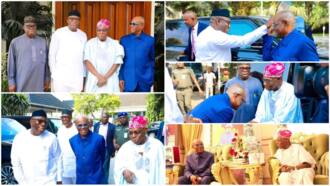 New twist as Obasanjo leads powerful APC boss to meet Wike, see photos
This request was made by President Muhammadu Buhari in a letter addressed to the red chamber on Tuesday, January 24.
As stated in the letter read by Senate President Ahmad Lawan to the flooding of the upper house, President Buhari based his request on sections 153(1) and 154(1) of the amended constitution.
Senate reacts to President Buhari's nomination of ex-IGP as head of Police Service Commission
Former Police Inspector General, Solomon Arase (Rtd) had been confirmed as the new Chairman of the Police Service Commission (PSC).
Arase's confirmation came on Wednesday, January 25, by the Senate, which discussed the nomination of President Muhammadu Buhari during its plenary session.
Source: Legit.ng