Peter Obi's supporters have continued their extraordinary way of supporting the Labor Party's presidential candidate
A palm wine tapper in a local community has gone the extra mile to show support for the former governor of Anambra State.
In viral photos shared on social media, the man climbed a palm tree to post Obi's banners for passersby to see.
Twitter – Photos of a man who climbed a tree in his community to put up Peter Obi's posters have gone viral on social media.
The unidentified man, apparently a supporter of the Labor Party's presidential candidate, carried the message of 'OBIdients' to his community through his unconventional way of campaigning for his preferred contestant.
The photos have sparked comment on social media from Nigerians, some of whom were astounded by the man's commitment to the Obi presidency.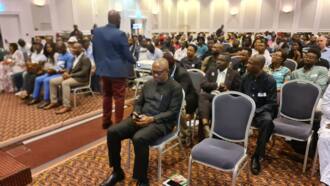 2023: Ghanaian pastor endorses Peter Obi, says Nigerians should elect LP presidential candidate
Nairlanders react to viral photos of Obi supporter in a palm tree
The photos were also shared on Nigeria's largest online forum, Nairaland, prompting responses from members of the platform.
A Nigerian with the nickname 'Domipraiz' wrote:
"Blessed is the man who was loved by all. Without a doubt, Obi is the man of the moment".
Efuaye wrote:
"You cannot find such organic support in any other party. For other parts money must be involved and a lot of guys are cashing in big!
Eunisam wrote:
"Organic love is real. Agape love is real. Everyone on the PO train. No one will work in vain. Your small contribution will never be in vain. A new Nigeria is possible, let's take our country back by all means."
Esales wrote:
"It is organic love. If Nigerians love you, they don't go to your rallies, they do things like this. That's what people don't understand. I have never been to a rally before for fear of bullets, but I have my own candidate that I support."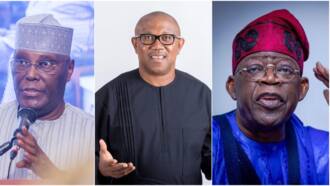 Don't vote for Tinubu, Peter Obi: Atiku urges Nigerians and gives reasons
2023: Ghanaian pastor endorses Peter Obi ahead of polls
Meanwhile, a pastor from one of the Assemblies of God Churches in Ghana has endorsed Obi ahead of the 2023 general election.
In a video that has now gone viral on social media, the pastor claimed that if possible, Obi should be made president rather than elected, due to his background.
He also said that Obi is a rare type of leader in Africa for leaving funds for his successor after his reign as governor of Anambra state.
Mechanic refuses to charge car owner money after spotting Obi's sticker on vehicle
Remember that in Edo state, a mechanic refused to charge a car owner money after fixing her car because she is an Obi supporter.
The lady had approached the mechanic when the car had a breakdown, but he refused to pay after working on it because he saw Obi's sign.
The excited woman took to social media to make a video of the mechanic while he was still working on the car.
Source: Legit.ng