Oyo, Ibadan – Emerging reports have confirmed that Oyo State Governor Seyi Makinde will lead Atiku Abubakar's presidential campaign rally in Ibadan.
In what looks like a shocking development, Governor Makinde, who is a member of the G-5 cabal of governors led by Rivers State Governor Nyesom Wike, has been in a serious dispute with the banner-bearer of the Peoples' Democratic Party. (PDP).
As the Nigerian Tribune reported, former Oyo State Lieutenant Governor Hazeem Gbolarumi, who is a bitter rival of the incumbent, will also be present at the upcoming presidential rally.
It was learned that on the occasion all the party's candidates at all levels will be formally presented.
Governor Makinde, who is the youth leader of the G-5 Forum, has always insisted that the right things must be done for the party to regain its place at the national level, especially in the area of ​​strict adherence to the zoning principle.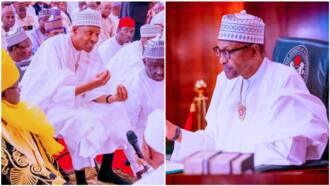 "Why are they killing Christians in Nigeria?": Buhari reveals details of his commitment to Donald Trump
His stance has led to factionalization of the party's state chapter, as other party leaders in their argument claimed that only the party's NEC has the power to remove the national president, Iyorcha Ayu, not Atiku.
However, with the current development, normalcy has returned to the match as all factions have agreed to put their differences aside and work for common party goals at all levels.
Source: Legit.ng